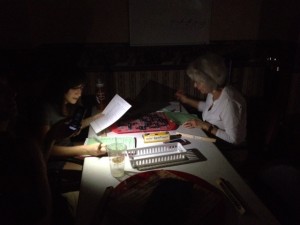 Photo by Barbara Van Alen
The Phoenix One Day tournament was held at the Chris Ridge Village Retirement Center.  Everything started out just fine!  Newlywed, Evan Fishman, won the "early entry award," a $25 gift certificate to Cracker Barrel.  The first three games before lunch all went as planned.  After lunch, game 4 was successfully completed.  Then, near the end of game 5 at about 2:30PM, a torrential downpour and gale force winds hit Phoenix from the west.  The lights flickered once, then all the lights went out!  The Center has an emergency generator and essential lights were on, but the activity room was pitch dark.   Most of the tally slips had been turned in for round 5, but three pairings had not completed their games.  Players with "flashlight" apps on their cell phones came to the rescue and the three final games were completed.
Everyone waited around for an hour.  Barbara and I huddled to decide what we would do.  Then, one of our club players, Lynn Hall, said that the game room had lights.  The game room had six oversized wooden card tables.  That would not take care of all of us.  Players starting moving equipment from the activities room to the game room.  Two 6 foot tables had to be brought over and extra chairs.  We were able to fit everybody in cozily.  Right before we were ready to start round 6, ALL the lights came back on.  We decided to stay put.  That experience was a first.
Division A
1st Laurie Cohen  6-2 +554 $100
2nd Larry Rand 5-3  +48 $80
Best over seed Sarah King 4 ranks over seed $60
High Game Jeff Kastner (533) $10
High Loss Travis Carlson (466) $10  (lost to Jim Lamerand <472>)
Division B
1st  Satya Mahapatra 6-2 +328 $90   (Satya was seeded 8th of 8 players)
2nd Andrew Schwartzberg 5-3 +245 $70
BOS Erik Anderson 1 rank over seed $50   (Satya and Andrew were overseed, too.)
High Game Satya Mahapatra (531) $10
High Loss Erik Anderson (439) $10    (lost to Barbara Van Alen <440>)
Division C
1st Karin Somerville 6-2 +523 $80
2nd Linda Stephens 6-2 +381 $65
BOS Zach Simon 2 ranks over seed $45    (This was Zach's first tournament!)
High Game Karin Somerville (458) $10
High Loss Evan Fishman (417) $10
All in all in, it was a wonderful tournament.  The storm provided an opportunity for a bit of socializing and weather watching.