Club news from Luise Shafritz: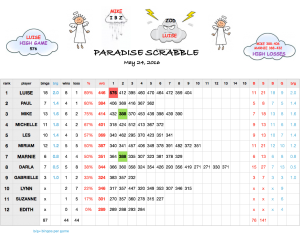 We play at the Paradise Recreation Center hence the name, PARADISE SCRABBLE, and the graphics of clouds, angels, lightning bolts, etc.  We usually start playing before 9:00 am and go until 4:00 pm (brining potluck to share for lunch) so some people play 10 or more games while others opt to stay for only 3 or 4.  Makes for a trickier spreadsheet but quite doable.
ZOD is the name of a character from the Superman trilogy — the all powerful alien that wants to dominate the universe. One of our players started claiming that he was ZOD — that no one could defeat him — that he would be scrabble-dominant. This activated our collective competitive spirit and soon everyone was trying to be ZOD (dominant) for the week. 
The IBZ or (I Beat ZOD) cloud salutes the one person (if any) who was able to defeat that week's Zod.
We try to highlight as many different accomplishments as we can think of and have fun categorizing the bingos played by color coding — see key below. I offer some legit anagrams for phoneys that were played.  We also try to keep track of blanks and esses to see if there's any correlation between number of blanks to number of wins and bingos. Obviously they make things easier but are not always a guarantee.
Miriam Green is the club director.  For details on this and other clubs, see the 
Club Directory