From Steve Pellinen: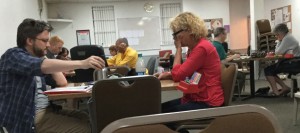 We've been doing rated Last Tuesday Tourneys for six months now, with anywhere from eight to 24 players showing up for five games on our regular club night, a change of pace from our usual four game club sessions.  The first four rounds are NAST-paired (equal strength field for all players) with 20 minute clocks.  The final round is king-of-hill with 25 minute clocks, and we're done at about the same time as a regular club session.
If at least 16 players show up, we go with multiple divisions.  A 10-dollar entry fee covers our venue rental ($3.50 per player), a few place and performance prizes and numerous small five dollar prizes for various categories.  On August 29, San Francisco visitor Andrea Michaels, seeded seventh out of 12 players, finished a perfect 5 – 0 for top honors.  Here she's shown in her final round matchup for all the marbles with Carl Voss, interesting because they are fellow Harvard grads, middle of the field seeds, and both masters of crossword puzzles – she at creating them, he at solving them.  Andrea won by six points.