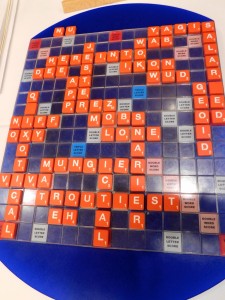 There was some sun, but also clouds and wind.  It felt better to be indoors.  Good thing there was an opportunity for serious competition!
The tournament ran smoothly, as we've come to expect from Larry and Barbara.  Here are Larry's comments:
"In February, 2015, the Phoenix Scrabble tournament moved to the DoubleTree by Hilton in Phoenix/Tempe.  This year, we had our largest turnout for the Main Event; 80 players in the TWL event, and 8 players in CWS.  
A record eight players attended from the Salt Lake City, UT Scrabble Club.
We have been doing "fun" prizes for at least the past ten years.  This year we went to memorial prizes and honored Ellis Wyer, John C. Green, Jr, Nancy Thurson and Steve Polatnick.  All of them passed away within the last two months.  A short obituary was read for each player.  Four prizes per division were distributed for Saturday and Sunday morning and afternoon sessions.,The  four memorial prizes were your play contains EW, JG, NT and SP.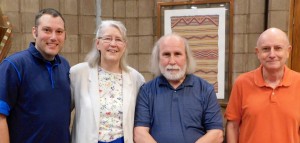 RIn addition to 97% of all entry fees ($10,090) being returned as cash prizes, WGPO received $550 in donations, and Word Cup received $1,000.  The monies over and above the entry fees were raised by two raffles, auction bid items, and for sale items contributed by the players, the Phoenix Scrabble Club, and partnership companies.  We appreciate everyone's support of the Phoenix 2018 tournament."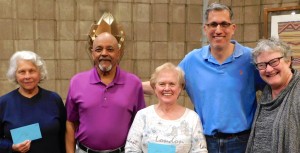 Results are under Past Tournaments
Photos are from vanrandtravel1.smugmug.com