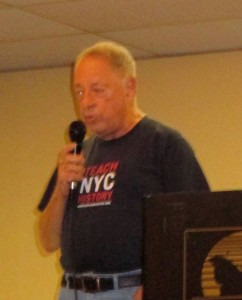 Jack Eichenbaum is conducting a tour.
Jackson Heights:  Garden Apartments, Ethnic Commerce and the Birthplace of Scrabble®  
Saturday,  July 21   5:30-7:30 PM
Early in the twentieth century, in conjunction with the building of the #7 train, Jackson Heights was planned as an innovative upper middle class garden apartment community based on suburban developments in northern European cities. Alfred Butts, an architect and the inventor of Scrabble® was among early residents. He designed the community room for the Methodist church where his wife played the game with her friends and where street signs reflect Scrabble®.  Commercial Jackson Heights has been transformed by immigration from an exclusive WASP enclave to a South Asian and South American mecca. We'll end proximate to a great variety of restaurants and dinner suggestions will be distributed. Meet in front of Delhi Heights restaurant 74 St/37 Rd. (#7, E,F,R to 74 St/Roosevelt Ave.)    $20 fee collected at the start of the walk. You must register in advance (email jaconet@aol.com) which I will confirm, hold you on a waiting list or advise of a sellout.  This tour is being scheduled in conjunction with a (NASPA) tournament commencing the next morning!