From Larry Rand: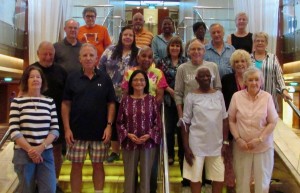 What could be better than visiting seven countries in 15 days and not having to do any driving, or making your bed!  Barbara and I led a group of 30 on the Celebrity Constellation.   On the six days we were at sea, twenty players competed in our 24 game Scrabble tournament.  [Roy Kamen won 20 games in Division 1, while Betty Schulman and Barbara Van Alen topped Division 2 with 18 games, Betty edging Barbara on spread.  Results at BestofIndia.]
The differences in the countries we visited were notable, but the vast majority were much the same.  Religion played a major role in each country, so we got to see many temples, churches, museums, and palaces.
Our private excursion to Agra, and the Taj Mahal, was a highlight for the majority of our group. Our tour guide, Sanjay, was excellent.  Check that one off the bucket list!
The seven countries that we visited were Abu Dhabi; Dubai; Oman; India; Sri Lanka, Thailand; and Singapore. Before the cruise, Barbara and I stayed three nights in Abu Dhabi.  We experienced the Grand Mosque, Louvre Art Gallery, and a sand dune ride.  Oh what a ride it was!  In Dubai, we went up the tallest building in the world (2,717 feet), the Burg Khalifa.  In India, we spent most of our time focused on getting to and from Agra and the Taj Mahal.  On our last afternoon, we took a tour of Delhi.  In Sri Lanka, we toured some of the areas away from the center of Colombo.  Less than a month after our visit, Colombo experienced a terrorist attack on churches and hotels.
 In Thailand,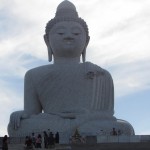 we toured a cashew factory, Big Buddha, a Buddhist Temple, and we watched the sunset over the waters of Promthet Cape.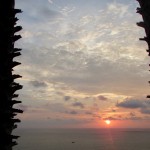 Our last port of call was Singapore, an island city state.  Compared to all of the other countries that we visited, Singapore was the most city-like in appearance, with major banks, hotels, and numerous food and entertainment opportunities.  Barbara and I took a wonderful narrated tour of Marina Bay.  A number of guests in our group extended their stay in Singapore.