Twenty players participated in an 8-game warm-up today. The big tournament starts tomorrow.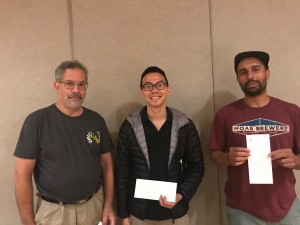 In Division A, 3 players won 6 games, but "Saint" Vesdapunt had the best spread.  Steven Alexander was second, barely ahead of the seemingly ubiquitous Gunther Jacobi.
Mary Logullo had a narrow win over Tom Campbell in Division B.  Both won 5 games, with Mary ahead by a few spread points.  Jesse Wornum was third, Deborah Baggett won the best-over-expectation prize, with John Aitken right behind her.