From David Pearl:
Twenty players met for a one day, 8 game event  in Laguna Woods on Saturday, June 4.
We played in a quiet side room of the restaurant, overlooking a golf course, and with clear views of the Orange County Saddleback mountains to the North and East.   Many players mentioned  they enjoyed the room & venue — zero complaints about the room or venue.
Four players commuted together from Las Vegas in a Tesla!
The best word with the most letters in "Saloon" went to Margie Flash Gordon, getting 4 of the letters and 72 pts in her Canolas, just besting Fusional, Oration, Cuploas,  Rotation, and Stoolie on points.
The Best Phoney that stayed on the Board was a close call.  Candidate phoneys were extants*, cutenes*, obsesser*, entogene*, plentify*, aerifier*, murrins*, angolas* (the African team which Charles Barkley threw his elbow against during the '92 Olympics), unskirts*, and iodiser*.  By  volume of applause, the players selected Unskirts* as the best phoney.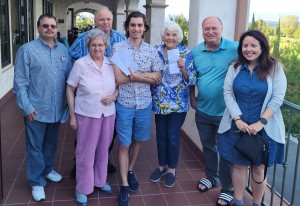 Division B:  This was a tight race throughout.  Jak Lysowski (Las Vegas) prevailed vs Rich Duncan in round 8 to take 1st place.   Gretchen Cowan bested Fern to secure 2nd.   Debbie Bloom got 3rd place.   Both High Win and high Loss went to Dave Baran.  Deborah Komatsu won the Class Prize, finishing 5th as the 9 seed.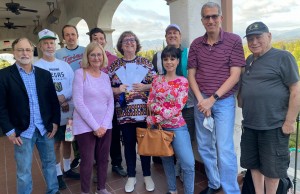 Division A:  David Pearl was 7-0 going into the last round with a 2 game lead on the field   As per pre tournament announcements that we would be Gibsonizing, David was Gibsonized , leaving  a 2nd place showdown between Zach Ansell and Annette Obrestad.  Zach edged out Annette 488 to 452 in a  high scoring game to secure 2nd, with Annette just missing 3rd on spread point.  3rd place went to Stefan Kac.   Class prize went to Margie Gordon, finishing 5th as the 8 seed.   Zach Ansell won High Win, and Margie Gordon 's 466 took High Loss.
Congrats to all the players who participated!