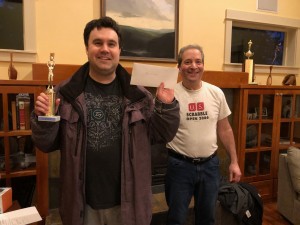 Eight Oregonians and six Washingtonians convened in Oregon City Saturday for a six-game tournament.  Mitch Bayersdorfer hosted and directed.
Portland typically has a decisive win in the Portland/Seattle interclub tournament.  The trophy was prominently displayed on Mitch's mantel yesterday.  Seattle got their revenge yesterday, with Adam Henderson winning Division 1 and Jane Bissonnette triumphing in Division 2.
But we're all friends and enjoyed each other's company, indoors on a rainy day.