From Steve Pellinen: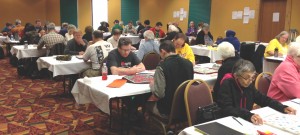 Wisconsin Dells is hone to no Scrabble® clubs or tournament players, yet every year it is home to one of the longest running tournaments in North America.  Some great players have made their debuts at the Dells (John O'Laughlin, Rob Robinsky, et al), and many of us have fond memories of our experiences at this event started by Dan and Robin Proud back in the early 1980s.
It can't be said that the thirty-second annual Wisconsin Dells tournament went off without a hitch. We were moved to a new room in Chula Vista Resort this year, and it wasn't an upgrade. Mountains are several states to the west or east, and our Sierra Vista room would more aptly be called the Parking Lot Vista (Estacionamiento Vista?).  However, given the too hot, too cold, rarely just right temps forced on us by a very maladjusted HVAC system, Carol Gibbs came up with the best name for our new digs – the Menopausal Room.
Despite the thermodynamic challenges, a lot of Scrabble® did get played.  Two Early Bird divisions were won by Mike Johnson and Julia Bogle. This was Mike's first Division 1 win. The four division winners in the WJ2 Main Event were Jason Vaysberg, also his first Division 1 win; Steve Hartsman Division 2; Julia Bogle Division 3; and Linda Stratton Division 4.  The Collins Event was won by Rob Robinsky, who won his last five games to close it out.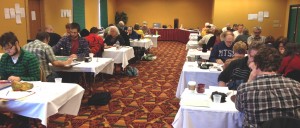 Three players made their tournament debuts this year – John Pellegrini, Pat Yovonovitz and Chris Palahniuk (all from the Twin Cities), with John winning a performance prize for his sixth place finish in a 14 player field. There were also two obvious stars over the weekend. Julia couldn't have done much better, winning both of her events, and Jason's 11-2 record was four games better than his nearest competition in Division 1. Very impressive results.