From Andrea Hatch:
Maine bills itself as Vacationland, but in mid-June in the tiny coastal town of Castine, it became Scrabble Vacationland during Andrea Hatch's 16-round, all-women's tournament, impeccably directed by Steve Pellinen.
Coming from as far west as New Mexico and Colorado, and as far south as Florida, 16 women competed intensely but in gentlewomanly fashion, savored lobster, and libations, enjoyed boat cruises and trips to Acadia, and thoroughly reveled in five days of picture-perfect weather that likely would be the nicest stretch of the summer.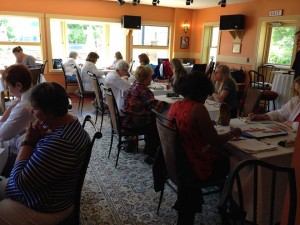 Top seed Lisa Odom won the tournament with a sparkling 14-2, +1771 spread. But the unquestioned star of the event was Anne McCarthy. Seeded seventh and saying she was rusty after a long hiatus from tournament Scrabble, she started 2-2, but then ran the tables the rest of the way, reeling off a sensational 12 straight wins, including 2 over Lisa, to finish a clear second, 14-2, +754 spread. So much for rust! The dominance of Lisa and Anne resulted in an unusual double Gibsonization before the last round. Complete results:  
Castine results
.
The tournament received fine media coverage, not only from the local weekly, but also from Maine's second-largest paper, the Bangor Daily news.
The visiting players have left. But the glow remains, not only for them, but also for the local merchants and the residents of Castine, where the tournament and Scrabble are still the talk of the town. A win-win all the way around!
Link to article in Bangor Daily News…..a very nice scrabble article.