Escape from the real world – come play in a tournament!
If you want to be thankful for indoor fun, come to the Minnesota Redeye/Pinkeye January 14 and 15.  It may be cold outside, but we'll have some hot games indoors.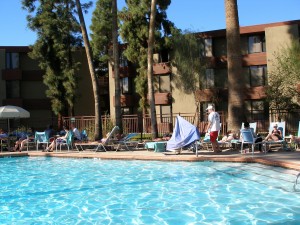 Or if you'd rather, you can enjoy Arizona sunshine when you're not involved in a game.  The dates are February 18 – 20.
Don't want to spend the entire weekend at the boards?  There are three one-day tournaments:  January 8 in Monrovia, California, January 14 in Loveland, Colorado, and February 11 in Lake Oswego, Oregon.
In April, there's a cruise on the Danube.  In May, we'll have tournaments in California, Iowa, and Colorado.  And there's more . . .  Check it all out at:  Upcoming Tournaments