Players in Englewood, New Jersey, and Lake Oswego, Oregon, celebrated with tournaments today.  Tempe, Arizona, gets into the holiday spirit this weekend.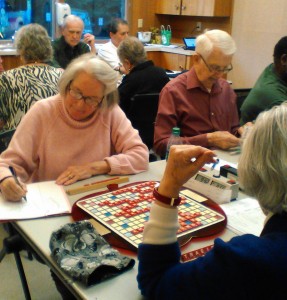 In Lake Oswego, 12 of us participated in a 5-game tournament held at the local adult community center.  We had two divisions of 6 players each.  The number 4 seed won in each division.  That was Alan Meyer in division 2.  I was exceedingly lucky and won division 1, Gunther Jacobi was second, and our versatile director Rich Moyer was third.
Congratulations to Howard Baldwin, who in his first tournament earned a rating of 1107.