From Dave Postal: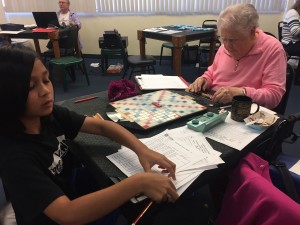 It is a testament to the universal popularity of Scrabble® when, at the Long Beach Late Summer Classic held yesterday, September 8, 10-year old Jude "Camden" Sermona squared off against 98-year old Desiree Engel (pictured here).  They split their two game series.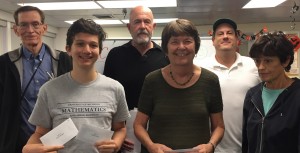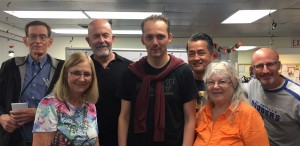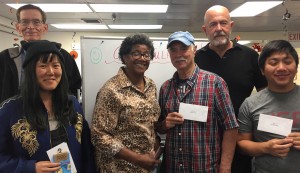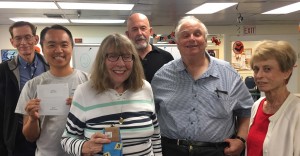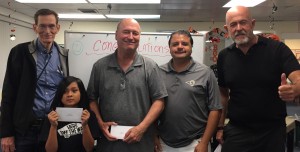 In overall competition, Elizabeth Ralston won the early-bird entry prize and then proceeded to dominate her competition going 6-1 +314 in Division A, which concluded with a four-way tie for second, emphasizing how important spread points can play a role in tournament outcomes.   Top seeded competitors in Division B and C prevailed with victor Stefan Kac turning in a 6-1 +253 performance and Andrea Ross-Greene steamrolling her way to a tournament best 6-0-1 +335 record in their divisions, respectively.  Spread points meant everything in Division D with David Baran eking  out a 20-spread point advantage over TC Houlgate-West in the most tightly contested division in the tournament.  Marty Sturgeon "fished" out victory in Division E while first time tournament player Rick Duncan turned in a divine inaugural performance with a 6-1 +653 effort in Division F.
Special thanks to our co-directors for this tournament Paul Rickhoff and Bennett Jacobstein.   As well as Joanie Scafuto and Deborah Komatsu for providing photography.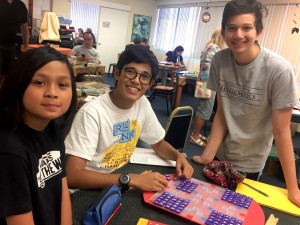 On a personal note I want to add that our tournaments have the continued honor to host school Scrabble® champions Zach Ansell and Cooper Komatsu (pictured here with Camden Sermona) as well as Jem Burch and Leo McKenna.  We know that college and career and family may take them away from the Scrabble® nest at some point in the future, but it is delightful having these mature, competitive, intelligent gentlemen among us at each tournament.  Viva La Scrabble®!