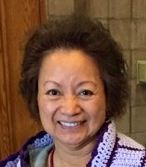 Maliha Mahmood left us August 21, 2019.  She was a warm, kind, generous soul and is greatly missed by all who knew her.
Maliha was a vital force in the early days of WGPO.  She was an enthusiastic participant in tournaments and contributed generously to help with the expenses of every tournament she attended.  She also gave generously to our organization.
Her interest in SuperScrabble® led her to form a club at her home in Tuston, California, and to publish a word list containing all acceptable SuperScrabble® words containing 2 to 21 letters.  In 2014, she updated it with many additional words.  This was endorsed by WGPO and published as Word Judge 2, the official WGPO word list.
Sadly, there was a parting of the ways with WGPO in 2017.  Many of us have deeply regretted this.  I enjoyed a number of games with her using the Collins lexicon.  As a recent convert to SuperScrabble®, I am sorry that I'll never have the opportunity to play that with her.
For more information about Maliha and SuperScrabble@, go to https://superscrabble.wordpress.com/