From Steve Pellinen: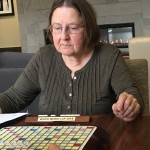 For several years now the long-running Wisconsin Dells tournament has been finding more affordable space in the suburbs, away from all the water park madness and traps for unsuspecting tourists. This year's suburban Dells events found a home in Fitchburg at a lovely venue that, unfortunately, managed to double book our meeting space. As second comers, we ended up in all of the available meeting areas apart from the main conference room. That put 21 players in the poorly lit Nesbitt Room, 10 players and the directors in the Theater with a strategically located protruding AV shelf, and 8 players in the cozy Den fronting the main lobby and not-so-quiet dining area. The Theater was located across from the elevator, a busy and talkative location.
At least three times the same family exited the elevator with a young daughter asking, "Mommy, what are they playing?"
"They're playing Scrabble, dear, you know, like your Scrabble Junior at home."
"Oh."
"Those are nerds, honey," from a male voice (in the Theater, to be fair).
Anyway, the players proved amazingly resilient and tolerant despite the cramped and less than ideal playing conditions. Winners in the main event included James Nalepka in Division C, Dan Terkell in Division B, Jason Vaysberg in Division A, and Mike Johnson in a strong Collins Division, where he won his last nine games after a 1-3 start. Early Bird winners in five divisions were Lynn Wolter, Mary Becker, Fran Galt, Lynda Finn and Steve Pellinen. Lynda Finn did a remarkable job directing and working with the hotel to find suitable playing space and arranging for a free lunch to somewhat make up for our inconvenience. All-in-all, a fun weekend in challenging conditions.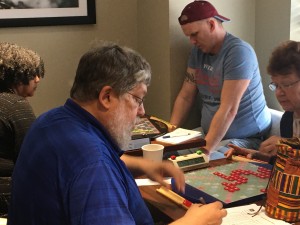 From Lynda Finn:
Thank you to:  Steve Pellinen and Lisa Odom for tourney directing and supplies; Sue Hoehn, Mike Johnson, and Jason Vaysberg for help with coordination; Norman Wei for donating beautiful wildlife photography and one of his hook books and Helen Flores for donating the frames.  Thank you to the following people for their generous financial contributions to Word Cup 10:  Dan Terkel, Carol Gibbs, Fran Galt, Sue Hoehn, Lynn Wolter, Mary Krizan.