From Dave Postal:
36 brave souls weathered through the chilly 65 degree partly cloudy Southern California December afternoon to toss the tiles at our Winter Wonderland of Words Tournament in Long Beach on Sunday, December 8.   No frostbite was recorded and the tiles were hot, hot, hot for division winners Jem Burch (div 1), undefeated Ken Louie (div 2), Kevin Belinkoff (div 3) and Karen Sturm (also undefeated) in division 4.
Paul Rickhoff once again assisted me in running the tournament (an invaluably organized and low key person that fits in perfectly with all our oversized Scrabble personalities) and Joanie Scafuto provided photography of our winners.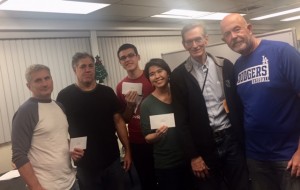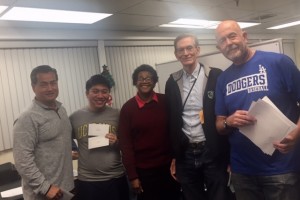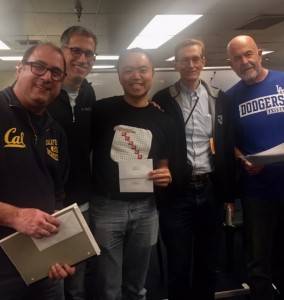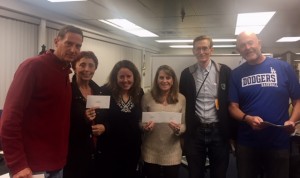 Scrabblers were notified that tournament co-director Dave Postal has moved
to Palm Springs but will continue running tournaments in the LA area (for
now), but you can also expect a multi-day tournament out in Palm Springs
during the non-triple digit temperature months of the year (there aren't
that many).
Happy holidays to all from our competitive Scrabblers here in Southern California.