From Juraj Pivovarov: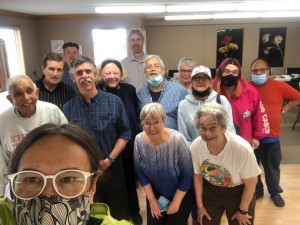 Calgary recently hosted an open 14-round Scrabble Tournament, and it featured two octogenarian finishers in the top 3!
Siri Tillekeratne beat George Macaulay of Saskatoon in their final round to win clear first.  He made a nice bingo that won him the "best word" prize for ABELOOW in the penultimate round.   Prizes were awarded for top three finishers overall and the top three Under1300.  Winning the U1300, and surprisingly finishing in 3rd overall was Wendy McGrath.  One of her great finds was ACDEEINU.
The lowest rated player, Tom McKay managed to play a phony triple-triple against the highest rated player George Macaulay and lived to tell.  REREPAIR.  However it has two legitimate solutions in TWL18: AEEIPRRR.  Can you find them?
Thanks is due to those who travelled great distance to play, like John from Vancouver, Zana from Utah, and George and Hank from Saskatoon. Noella had to drop out at the last minute, and donated her entry fee as a special category prize for LOW WIN, which was a very pleasant surprise for Zana, who didn't finish in the money, but managed a win with only 301.
We typically have 20-30 players in a tournament, but this tournament was low with only 15.  Many last minute cancellations for reasons such as covid, etc.
PAIRING notes
We had 15 players and 14 rounds, so it was a little awkward.  14 players would get a bye and one person would not.  In this case George had the best record all tournament and was the only one who didn't get a bye.  But in hindsight, with these numbers, I'd be tempted to give NO bye to the lowest rated player, as they are least likely to win the tournament overall, and thus it may have been the fairest.
Also, we had an option of round-robin style pairings (truncated round robin, with perhaps one king-of-the-hill at the end).  This gives more VARIETY of opponents.  What we chose instead was three legs: 8 rounds, 5 rounds and 1 round, whereby players could get repeat opponents in the second leg, and could potentially face the same opponent a final 3rd time in the very last round.  This had the virtue that players could compete more with (rating-wise) peers.  ie strong players could get more games against strong players, which they like, and ditto for lower rated players.  The downside is less VARIETY.
We didn't like the concept of two divisions because there were a lot of players in the mid range, and very close to each other.  Thus, with two divisions, some middle players would play in the top group – and ALL their games would be hard.  Other middle players would play in the bottom group, and ALL their games would be significantly easier.  An OPEN tournament makes it more fun, where "players sort themselves out" and play who they should be playing based on their tournament ranking.
We have always done sectionals in Calgary, it was fun to try an Open, and it was generally well received by players.